Blogged in Bareback, Hardcore, Staxus on June 7th, 2013

Tags: bareback, Drew Paskin, flip flop, Kris Walllace, Staxus, twinks, uncut cocks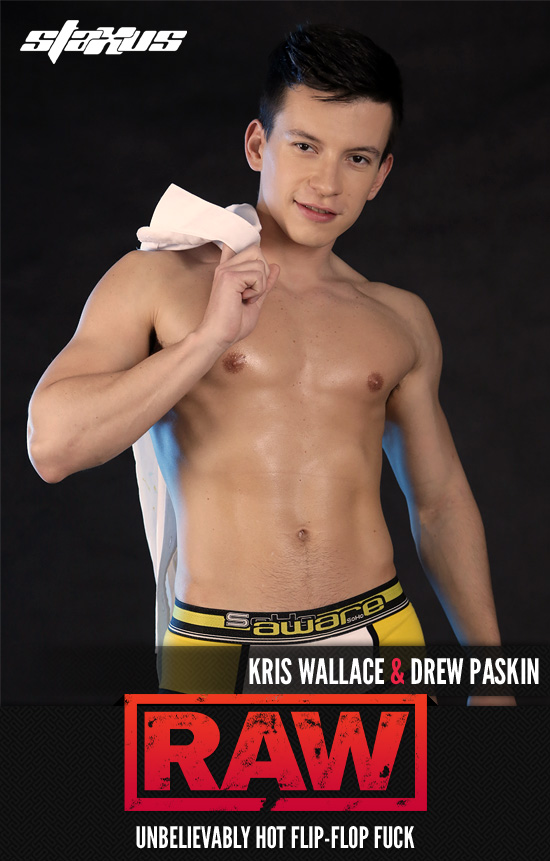 We've all heard about people who can use either their mouth or feet to paint, but young Drew Paskin has a talent that very few folk can boast – and one that is most unlikely to appear on any upcoming TV show for artistic wannabes. For here's a fellow who can actually paint with his dick; though whether the portrait of Kris Wallace that he creates in the opening moments of this scene is ever going to achieve critical acclaim is another matter entirely.
Not that any painting – be it created by a guy's cock or otherwise – is ever likely to capture the true beauty of a fellow of Wallace's stunning quality. Indeed, Paskin abandons his unorthodox artistic creation in favour of a more traditional appraisal of his pal's absolutely gorgeous physique, falling down onto his knees and slurping on Wallace's knob with understandable relish and gusto. An enthusiasm that Polish-boy, Wallace, displays with equal measure just a few moments later!
Cue a deliriously hot flip-flop fuck between these lads, which will surely have you jerking like crazy long before the parting shots, and which includes some of the hottest, most animalistic rimming of someone's ass you're ever likely to see. Wallace's tongue is a wonder to behold; as is his dick, which eventually spurts majestically all over Paskin's face! In short, get ready to milk your balls dry!
Share this article