Blogged in Bareback, Hardcore, Staxus on August 27th, 2013

Tags: bareback, Jaxon Radoc, Orlando White, Staxus, twinks, uncut cocks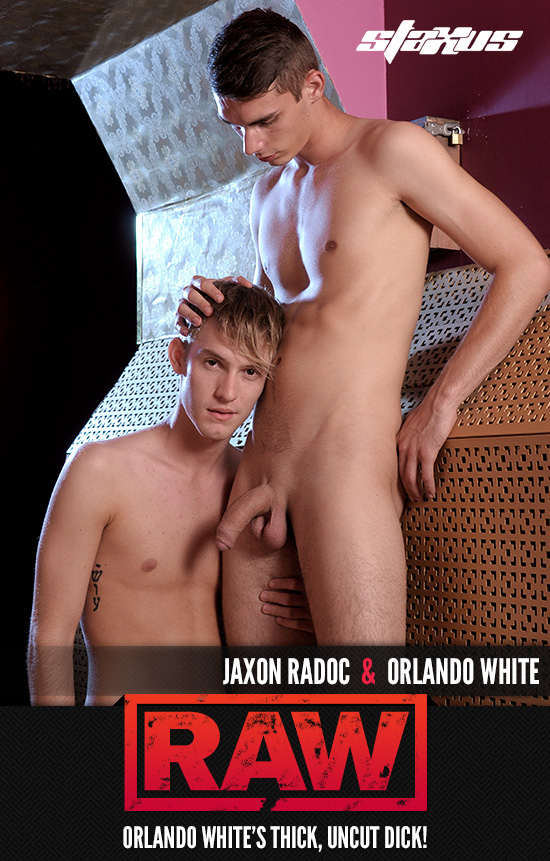 Location may be the defining factor where property's concerned, but in porn it always essentially boils down to one thing and one thing only: the models. Be they rutting in a slum or fucking in the grandest room in the Ritz, it's what the boys look like and how well they're hung that counts. As such, this fine little escapade – featuring two of Staxus favourites, Orlando White and Jaxon Radoc – pretty much has hit written all over it even before the opening frame!
What's more, neither fellow disappoints; as the lads kick off in a Budapest sex-sauna for your perverted entertainment. Beginning with a mutual suck-fest that sees both beauties slurp on each other's hard offerings like they've not tasted dick for weeks, culminating in them lying top-to-toe for a delicious, mouth-watering session of 69-ing that's almost an artwork in itself.
For the ever-horny White, however, there's not gonna be any true sense of satisfaction until his big, oversized balls are knocking against his Aussie mate's ass; and having taken the opportunity to earnestly rim Radoc, he's soon pounding away from above like he literally owns the hungry bottom's rump!
Needless to say, Radoc gets the hard, raw fucking he both longs for and deserves; culminating in him spewing over his belly, before positioning himself under White's erupting shaft to chew on every last drop of pent-up Czech jizz! All topped off with a sticky, open-mouthed kiss.
Share this article