Blogged in Bareback, Hardcore, Staxus, Uncut Cocks on November 20th, 2013

Tags: bareback, Benjamin Dunn, Justin Conway, Staxus, uncut cocks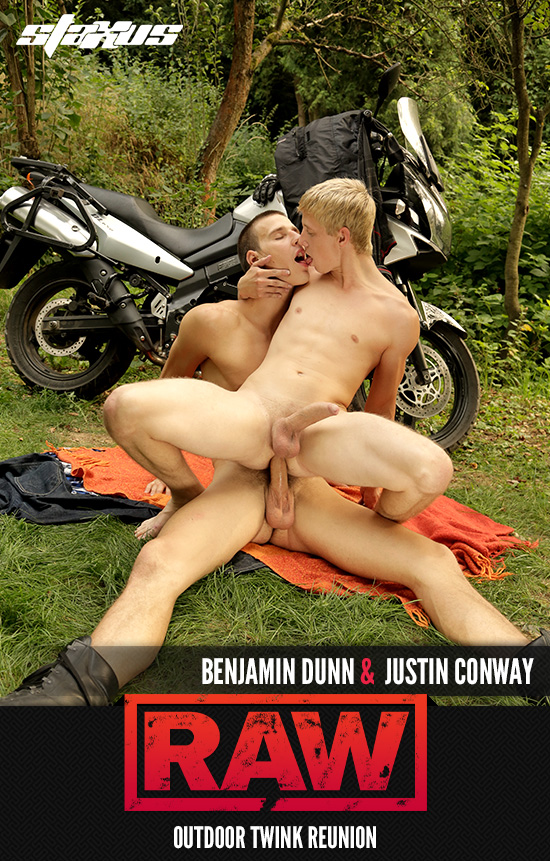 Benjamin Dunn and Justin Conway are almost the antipathy of each other. Dunn is tall and dark, and loves making tracks here, there and everywhere on his motor bike. Conway, in contrast, is blond and comparatively short, and is a fellow who enjoys nothing more than idling time away in his hammock. What, you may ask, could these two respective beauties have in common?
The answer, of course, is fucking obvious – right from the very moment that Dunn whizzes into the scene on his two wheels and Conway jumps up to greet him with a firm hug and an even keener kiss. Indeed, the manner with which these two beauties tear each other's clothes off pretty much confirms their mutual love of naked male flesh and raw hard cock – a penchant that is only underlined further as they take turns to trade blowjobs, before engaging in a sultry, rather energetic session of 69-ing on the grass!
But matters only intensify when Conway lubes his lover's dick with spit and then proceeds to plonk his ass down on the thick, meaty member, riding the ass-splitting shaft like the veritable pro he's long-since become. It's a high-octane, explosive encounter from the very first thrust of Dunn's hips, interrupted on several occasions by Conway's desire to suck on his pal's knob; and concluded only when neither boy can hold back from the inevitable, resulting in a sticky, messy spray of pent-up ball-juice!
Share this article